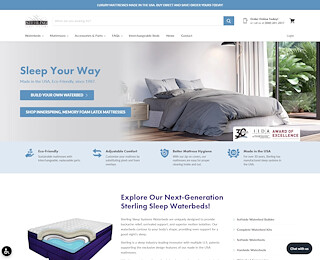 Have you ever wondered what is a therapeutic mattress and how it can help you? Please, visit our showroom, at Sterling Sleep Systems, and our experienced team will explain the differences and the benefit of different types.
What is a medical mattress?
This type of mattress is designed to correct overall body posture during sleep and offer a better resting experience. By providing firm support to your body, an orthopedic mattress will combat the problems you might experience within your backbone or joints. Being designed in accordance with the latest orthopedic recommendations, your bed can easily correct disorders or deformities of the spine.
Overall, a medical mattress is an excellent choice as it reduces the pressure points, regulates the body temperature, and allows better blood circulation. They come in different sizes and with different materials, each serving a different purpose while offering you the maximum comfort.
Benefits of a therapeutic mattress
An orthopedic mattress is intended to minimize the additional stress to your body while providing comfort and contributing to the healing process. This type of bed offers some clear benefits:
Different forms – depending on the medical condition, a different kind of orthopedic mattress may be suitable to use. For example, a foam mattress provides an optimal weight distribution while the air circulation inside prevents bed sores and ulcerations.
Firmness to different body zones – conventional beds create pressure points on the heaviest body parts. By comparison, a medical mattress will respond to the heat dissipated by your body and will stay soft in that area. Besides, an air type mattress will alternate the pressure inside, improving blood circulation and heat dissipation.
Different types of covers – these are usually waterproofed and removable for easy cleaning and maintenance, or replacement when worn. Covers can be made from the same material as the mattress or can be in natural and organic fabric to provide complete breathability.
Suitable for adjustable bed frames – a medical mattress is flexible to follow the movements of an automatic, semiautomatic, or manual bed frame. These will allow the caregivers to adjust the bed to a comfortable position for the patient while the mattress will provide the same firmness as in the horizontal position.
Cost-effective – multiple foam layers will comfortably accommodate patients with different weights, reducing the necessity to keep a "weight" oriented stock. Usually, a six-inch mattress will be suitable for most of your patients. Also, these mattresses are durable and designed to last longer.
How do I choose a good mattress?
The ideal bed is the one that makes you comfortable and responds to your needs. To start with, there are two common types of therapeutic mattress: innerspring and foam.
If you like the "bouncy" feeling, the innerspring will most probably be the right option for you. On the other hand, if you would rather have a firm base but with an even body weight pressure distribution, the foam one will fit your requirements. Regardless of your preferences, at Sterling Sleep Systems, we have the perfect solution!