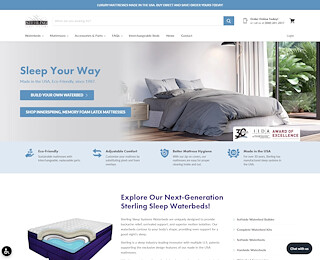 Finding the right mattresses for hospital beds may be challenging with so many suppliers available in the market. Luckily, at Sterling Sleep Systems, we have solutions for even our most demanding customers and requirements.
Why do you need a good mattress?
Your mattress is essential in achieving and maintaining proper backbone health. Finding the right mattress means that your body will get proper support while sleeping, increasing your comfort, and improving the sleeping posture. A quality product will diminish your back pains by reducing the pressure points when you are lying on your back, front, or side.
Another aspect to consider is the body heat and the sweat you generate while sleeping, which are then absorbed by the bed and the pillows. A proper mattress will absorb the heat and will create a cold surface, ensuring a good rest.
Can you use any mattress on an adjustable bed?
Yes, you can use any mattress with an adjustable bed. However, it's performance will be influenced by the composition, thickness, firmness, and flexibility. Based on the material used, there are several types of mattresses for hospital beds:
Natural latex - they are flexible, durable, and long lasting with the benefit of no chemical smell. They offer a "bouncy" feeling that many people find it to be pleasant,
Memory foam – they have the advantage of distributing your body weight evenly, reducing the pressure on your spine. A memory foam mattress is flexible enough to match the curves of the base working the best on an adjustable bed
Hybrid type – they are combining several support systems, the usual combination being a memory foam layer on top of an innerspring system. Taking the benefits of the two types, they are offering the best pressure relief for your body.
Innerspring – they may be not the best option for a hospital bed since the interlocking coils could get tangled when using them in a tilted position.
Air mattress – they are a cheaper alternative, but they tend to lack the support and comfort offered by the other types. On the other hand, a low air loss mattress presents benefits when used for patients suffering from skin ulcers. The air released removes the moisture and keeps the patient's skin dry.
Due to the repeated movements of an adjustable bed, the flexibility and durability of your mattress are critically important. A quality mattress tends not to wear out and to last longer.
Which are the best mattresses for hospital beds?
Any mattress may be suitable for hospital use since this depends on the type of hospital you run and where you intend to use it. You have to make sure that the selected mattress will fit the purpose, will have a removable cover for easy maintenance or replacement, and will be durable.
The 3-layer system proposed by Sterling Sleep Systems is a versatile type of mattress suitable for most of the hospital needs. In case you still have second thoughts, please visit us for a free demonstration.