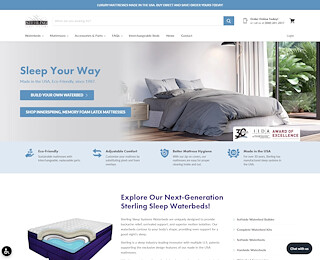 Sterling Sleep Systems specializes in the construction of beds with interchangeable components. At our store, you can purchase the best mattress for a hospital bed available on the market, a product previously awarded by the hospitality industry, back in 2010. Such recognition is due to our offer of highly sustainable products.
Can a regular mattress be used on a hospital bed?
Using a regular mattress in a hospital bedroom is unviable in all possible scenarios. A regular mattress is not fit in any way to endure the strict requirements associated with a patient's medical conditions. For instance, a regular mattress can't bend when using an adjustable bed, a feature very often used to feed the patients or to change their positions.
Also, our hospital mattress is equipped to be more hygienic and will last twice as long due to our use of replacement parts. This way, we allow health institutions to invest in a long-term product that will still maintain its functionalities and qualities over time. Since we have implemented this, our beds become easy to clean as they are entirely dismantled, even allowing them to eliminate bed bugs quickly.
What type of mattress is best for an adjustable bed?
There are quite a few requirements when it comes to choosing the best mattress for use on an adjustable bed. One of these requirements is the mattress' material. Our available offer mostly includes mattresses with a fresh flow gel infused memory foam interior, allowing you to even adjust the mattress firmness, between plush and firm, by simply flipping the mattress around.
If you are looking for a mattress for a hospital bed, then look no further. All our products are national, contributing to our country's employment. Our mattresses are composed of three layers: a firm support layer; covered by a shape conforming transition layer; that consequently is topped by a cooling glow gel infused memory foam layer.
Having hygiene and shortage of time into consideration, we have developed a mattress cover that is fully removable and water resistant. Also, our mattresses' covers contain an additional anti-microbial and anti-bacterial layer for extra protection and hygiene.
What is the best mattress for a hospital bed?
When comparing our hospital mattress with others from our competitors, it becomes clear that we offer way more advantages and benefits along with our products. Whether you are an individual or a commercial client, you can easily get in touch with us, and we will provide quick assistance. We can offer quotes and samples for healthcare organizations, so just visit or call us today.
If you still need more information to decide, just know that, with our product, you will be paying for a comfortable and long-lasting mattress. Simply by replacing its worn parts, you can increase its lifespan by another three years. You can't achieve this if you purchase a normal mattress instead.
Sterling Sleep Systems has been around for 30 years, and, being an awarded company, we are sure to be the best option for your health-related purchases. Besides our mattress for a hospital bed, you can also buy our comfortable and ergonomic pillows.
Mattress for Hospital Bed