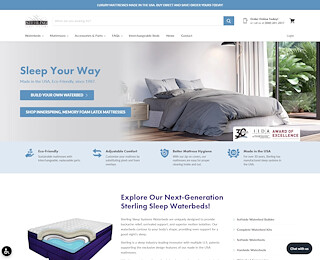 Regardless if you are looking for a hospital mattress for personal or for commercial use, we at Sterling Sleep Systems have the right product for you. We are using a 3-layer system made of a special foam and covered with a zippered anti-microbial and anti-bacterial cover.
What kind of mattresses do hospitals use?
The answer is simple: medical, also known as therapeutic mattresses. The crucial factor, especially for the extended bed rest patients, is to provide comfort and support while they are recovering.
Since we use them for therapeutic purpose, medical mattresses are considered medical equipment. In many cases, our designers are working hand in hand with hospital staff, targeting the treatment of specific ailments. Usually, a hospital mattress is composed of one or more layers of foam, innerspring coils, air, or gel, and following this, there are several types of therapeutic mattresses:
Innerspring mattresses – represents one of the first types used in modern hospitals and are of a proven and sturdy design. Innerspring is the baseline upon other hospital bed mattresses were built and does not hold any fantastic features. It is just a robust design, fitting the purpose, excellent quality, and at a very reasonable price.
Foam mattress – usually is made of 2 or 3 layers of foam, and due to the memory form of the foam, this medical mattress reduces the effect of bed-related pressure sores. The soothing effect is coming from redistributing the body pressure evenly, increasing at the same time, the patient's comfort.
Low air loss – it is a type of mattress less know in the commercial applications since it is used mainly in the prevention and treatment of skin ulcers. Through tiny laser made air holes, this mattress is continuously blowing air out, causing the patient to "float." A benefit is that the air will remove the moisture nonstop, and the patient's skin will stay dry.
What is the best mattress?
There is no such thing as the best mattress since you can use each type for treating a different kind of ailment. A quality mattress is providing proper spinal alignment and is reducing the pressure at the skin level.
When selecting your therapeutic mattress, you have to look for several aspects to ensure you are buying a superior product:
Easy to maintain, with removable cover for cleaning or replacement
Treated inside with harmless DE to eliminate bed bugs
Flexible and firm to follow the hospital bed's movements while remaining in place
What is a pressure relief mattress?
It is a type of hospital mattress that can increase the patient's comfort and help alleviate pain. The ultimate goal of a medical mattress is to offer a solid night sleep important to recovering patients.
At Sterling Sleep Systems, we are manufacturing different styles of relief mattresses and pads, including the bed overlays. Our best professionals are available to guide you in selecting the product most suitable for your purposes.