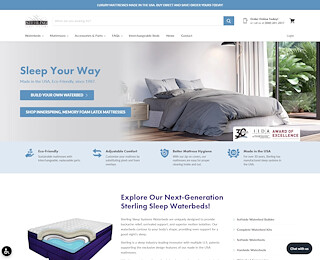 Whether you need a mattress for new hospital beds or even for your personal use, hospital mattresses can provide great comfort and support for your spine. Sterling Sleep Systems offers a great line of mattresses with different hospital bed mattress sizes.
What are hospital bed mattresses?
You've probably noticed how much more comfortable hospital mattresses are, compared to your regular mattresses. Unlike regular ones, hospital mattresses not only need to offer sturdy back support but also be flexible enough to be used with adjustable beds. They should provide proper support for people with various back and neck conditions, and for people who will be bedridden for long durations.
Not only do hospital bed mattresses have to be sturdy, but they also need to accommodate people of different weights. This means, with regards to durability, they must withstand large numbers of fatigue cycles.
Hygiene is another incredibly important factor that needs to be addressed by hospital mattresses. They should make it easy and quick to clean while discouraging the growth of dust mites, bed bugs, and other insects. There are various types of hospital bed mattresses available, which include air mattresses, innerspring mattresses, and foam mattresses.
Size and weight capacities of hospital bed mattresses
When choosing a hospital bed mattress, you need to prioritize size and weight capacities. Usually, the wider hospital bed mattress sizes accommodate a higher weight capacity and typically consist of foam. The standard size is 36'' in width and 80'' in length, and some cheaper options in this size consist of inner springs.
Sizes wider than 36'' are typically used for heavier or obese patients and are usually constructed from dense foams. Although air mattress systems are the most expensive, they offer the most customization, by varying airflow and pressure at various points.
Get a professional bed mattress today!
We cater to both large-scale commercial clients and even individual clients. So, if you need one at home to treat someone who will be bedridden for some time while recovering from an illness, we are happy to deliver to you.
We thrive to making quality and innovative products, where we invest a lot of effort into novel chemical and material technologies. For example, our mattresses consist of foam types that have broader operating temperature ranges than regular memory foam. Memory foams are open-cell foam structures that allow a smoother flow of air through the foam, thus producing a highly breathable and cooler fabric.
Our innovative CoolFlow foam has more stable viscoelastic properties under various loading conditions. As the constituent materials are also more reactive than regular foams, the production process is more resourceful and efficient. It's not just comfort we care about; we also care about hygiene, which is why our mattresses repel bed bugs and are easy to clean.
Various hospital bed mattress sizes correspond to different weight capacities. If you're looking for particular weight or size specifications, call us at Sterling Sleep Systems to find out more.
Hospital Bed Mattress Size