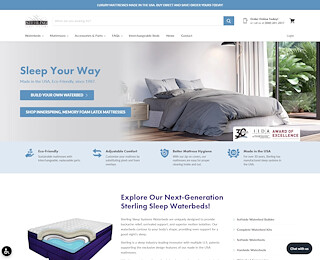 With more than 30 decades of business experience, Sterling Sleep Systems is a domestic manufacturer that specializes in the creation of sustainable modular mattresses and pillows. Based on our vision, we can provide institutions and individuals with affordable health-related products, like our contour neck pillow.
Are contour pillows good for your neck?
Indeed, contour pillows are extremely healthy for your body and not just your neck. If you suffer from neck pain, you must avoid sleeping with higher or stiffer pillows. If you decide to sleep using a pillow that is too high or too stiff, it will result in a stained and stiff neck during the next day.
Our body positioning pillow comprises of Therma Gel-infused foam, and it will provide reliable support for your neck and shoulders, allowing your body to relax fully. Also, the pillow cover contains a zipped aperture, through which you can easily remove when you have to wash it.
Can neck pain be a sign of something serious?
Although it is common to feel neck pain, you should never think of it as something not serious. If you are indeed experiencing some signs of pain, then that's already an indication that something's wrong, even if it is something as simple as sleeping in a bad position. If you analyze the pain and it eventually goes away, then the cause was benign, like a muscle strain. However, if the symptoms continue to persist, you should see a doctor.
Some examples of conditions that may trigger your neck pain include:
The degeneration of the vertebrae and discs, most likely a result of aging
You are sleeping in a bad position, so go ahead and purchase our contour neck pillow today
Poor posture, like sitting at a desk all day
Anxiety and stress
Torticollis, a condition that occurs very frequently overnight and will wear off in some days, but can also come as the result of something worse
Some light or severe injury, likely a result of force trauma while playing sports or some other activity
An infection
Cancer
What is the best contour pillow for neck pain?
Our contour pillow consists of high-quality memory foam. This means that the purpose of the pillow is to maintain spinal alignment and prevent neck pain and stiffness. The pillows' fabric is also soft and luxurious, contributing for a better airflow. Therefore, it is accurate to say that our neck pillow is the most precise tool to prevent and to treat your neck pain.
We also provide different options of foam. In addition to our superior ultra-plush cooling flow gel infused memory foam, we also offer a durable urethane foam option. This last option is somewhat more affordable, and it can be the right choice for you if you are not fond of memory foam pillows.
All our products at Sterling Sleep Systems are produced domestically at our local factory in California, including our contour neck pillow.